LOGISTIC KNOW-HOW SINCE 1948
Since its founding in 1948, the center of the SCHMIDT Group has been located in Heilbronn/Neckar. From there, all activities of the SCHMIDT Group are coordinated and monitored worldwide. In addition to being head office, Heilbronn is also the official business seat for top management and divisional management as well as interface for the entire IT network, the location of quality management and the drivers' training center. The central engineering department in Heilbronn designs, plans and coordinates the implementation of logistics and outsourcing solutions as well as technical systems for the SCHMIDT Group. Central vehicle planning for Germany, fleet management and the main workshop as well as the main spare parts warehouse are also based in Heilbronn.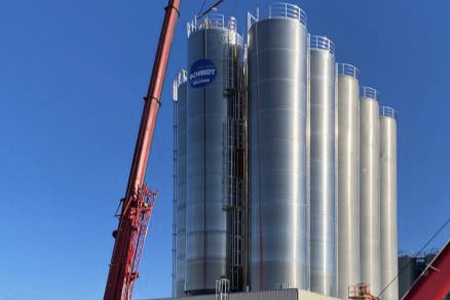 EXTENSION IN ANTWERP
The existing silo battery of the SCHMIDT branch in the port of Antwerp was extended by 6 new silo towers. Thus, a total of 42 elevated silos are available for the storage of various granulate products.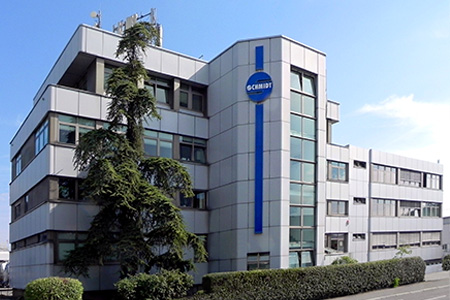 GLOBAL PLAYER
The SCHMIDT Group now is globally active at 49 locations with about 2000 employees. More than 1300 silos for bulk storage and about 170,000 m² warehouse space for packaged goods are available. Nearly 1300 vehicles as well as almost 6500 containers round off our service Portfolio. Construction of a 5-story office building at Heilbronn headquarters starts.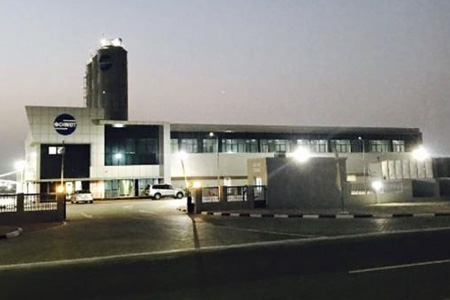 RELOCATION OF THE MAIN LOCATION
In mid 2017, the actual main location of SCHMIDT Middle East is relocated from Dubai to Abu Dhabi (Kizad Industrial Zone). At the new location, SCHMIDT ME has built and operates its second large multi-customer terminal in the Middle East.​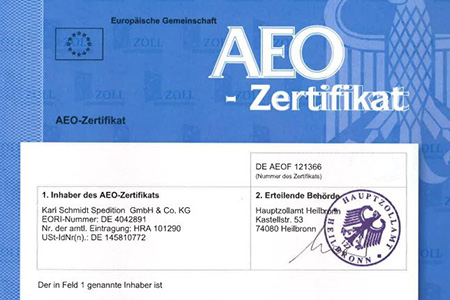 CERTIFICATION
Since the beginning of the year, SCHMIDT is AEO certified. For owners of this certificate, certain customs processes are considerably facilitated. As a globally active company, SCHMIDT is now in a position to process business in other member states more speedily.​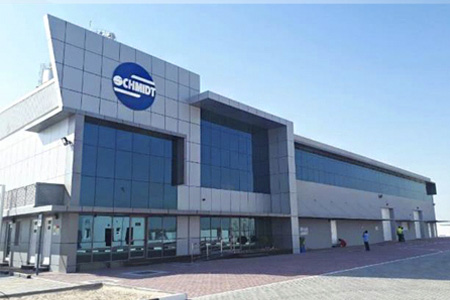 NEW LOCATION
Commissioning of the new SCHMIDT location inside the "KIZAD" Khalifa Industrial Zone Abu Dhabi. On behalf of ADT, SCHMIDT Middle East successfully completed planning and construction supervision for a filling/bagging facility for plastics granulates.​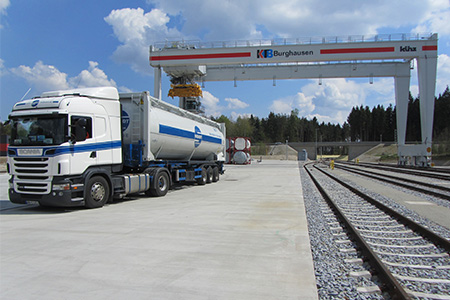 KOMBITERMINAL BURGHAUSEN
As a new hub of intermodal transport and thus an important link to the North Sea and North Italian ports, the Kombiterminal Burghausen was put into operation.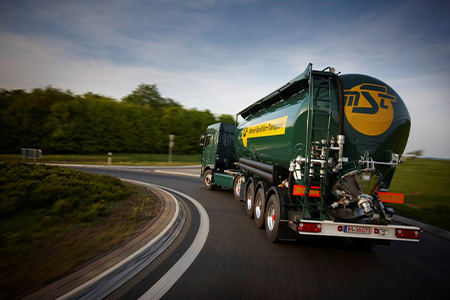 COMPANY PARTICIPATION IN KERPEN
Since the beginning of the year, SCHMIDT owns a 50 % partnership in "mst Mineral-, Speditions- und Transport-GmbH" in Kerpen. The remaining 50 % are held by Quarzwerke GmbH, Frechen.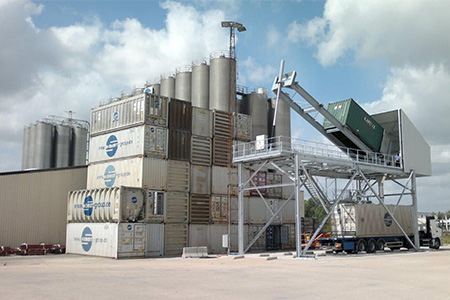 FOUNDING EUROPEAN BULK HUB DUISBURG
SCHMIDT and Imperial establish a joint-venture company. Under the name of "European Bulk Hub Duisburg", at the facility at Duisburg harbour handling, warehousing and transport of dry bulk goods are jointly carried out.
WORLDWIDE ACTIVE
In the meantime, SCHMIDT is represented world-wide with more than 1400 employees at a total of 32 locations. Storage capacities have increased to 1162 silos with a total capacity of 438,231 m³. 103,520 m² of warehouse floorspace are available. More than 800 vehicles and 5000 containers are part of the corporate equipment.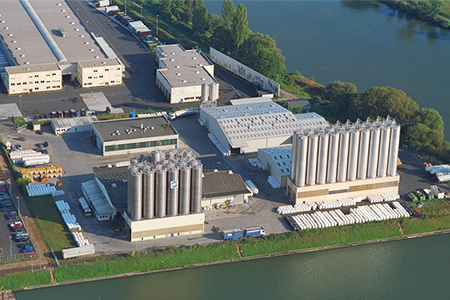 COOPERATION WITH TICONA AND BASELL
SCHMIDT takes over the operation of the logistics facilities of their customers Ticona and Basell in Frankfurt/Main as well as for customer Basell in Ferrara/Italy.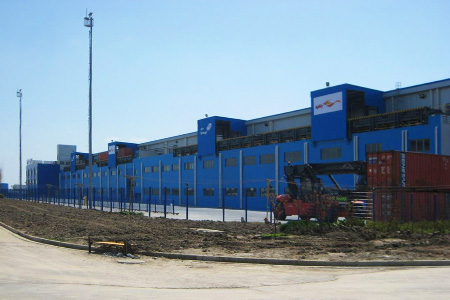 LOGISTICS FACILITIES IN SHANGHAI
In Shanghai, the customer Agility starts logistics facilities after completion of a two year construction period. SCHMIDT was responsible for planning, construction and staff training at the start of operations and deployed a team of German experts on site in China.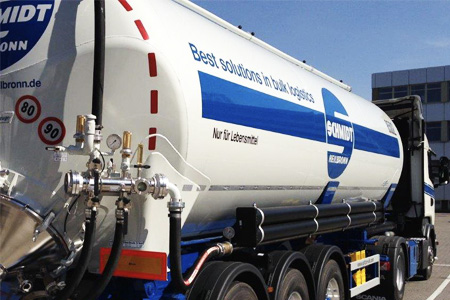 NEW: FOOD TRANSPORT
The service portfolio for transports in the food sector (sugar, corn, rice) is expanded.
ABU DHABI
In November 2009 a SCHMIDT representation office opens in Abu Dhabi (UAE).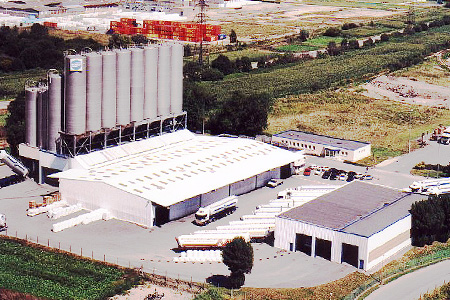 SALE TO DELISLE
The premises of the Lillebonne/France subsidiary including silo facilities, warehouses and office buildings are being sold to Delisle. Nevertheless, SCHMIDT continues to run the operation and all forwarding activities in France from this location.
CERTIFICATION FOR ANIMAL FEED
In Russia, China and Singapore SCHMIDT is starting consulting projects and Heilbronn headquarters are also certified for animal feed in accordance with GMP+ standards.
NEW SUBSIDIARY
In Great Britain, a second subsidiary is opened in St. Helens.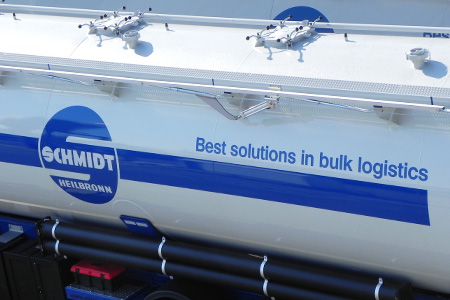 CREDO
"Best solutions in bulk logistics " becomes SCHMIDT's mission statement.
NEW BUILDING IN POLAND
SCHMIDT builds a state-of-the-art cleaning station in Biala/Plock (Poland).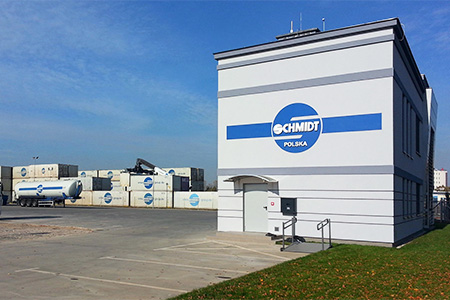 STAFF EXPANSION
SCHMIDT makes a consulting team available to train agency staff in Poland.
CONTAINER FACILITIES OPERATION IN POLAND
Simultaneously, complete operations of the new container facilities in Plock/Poland are taken on on behalf of their customer BOP (Basell-Orlen-Polyolefins) including intermediate storage, bagging and organization of block trains commuting weekly between Plock and Großlehna.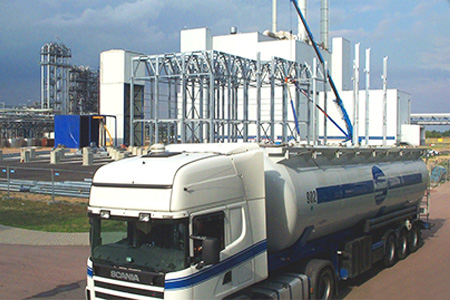 FOUNDATION OF MKL
SCHMIDT is setting up MKL (Mitteldeutsche Kunststofflogistik) in Schkopau, Germany, as a joint-venture company with Finsterwalder Transport & Logistik, and takes over warehousing and logistics services for the local DOW polyolefine production line.
NEW SUBSIDIARY IN POLAND
Moreover, a new SCHMIDT subsidiary opens in Raszyn/Poland, near Warsaw.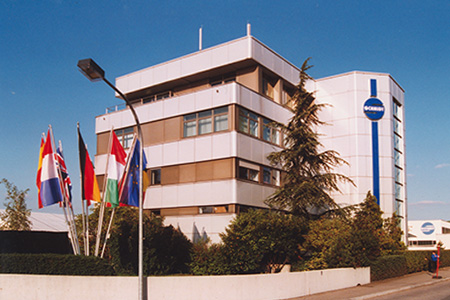 WORLDWIDE ACTIVE
The SCHMIDT Group employs over 750 people and operates a fleet of more than 800 road tankers and 1000 bulk containers. More than 700 silos with over 240,000 m³ capacity and conventional warehouse capacity exceeding 100,000 m² are available for storage in twelve locations in Germany and throughout Europe. The SCHMIDT Group operates a network of 20 subsidiaries in eight European countries.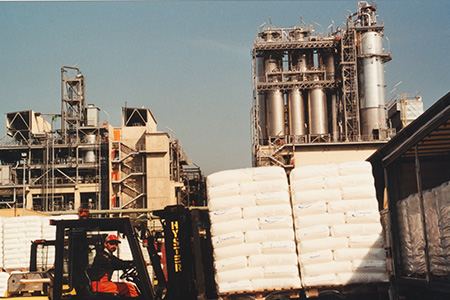 CURRENTLY LARGEST OUTSOURCING PROJECT
The currently largest outsourcing project was introduced in Wesseling near Cologne which included the planning, construction, operation and distribution for a production plant with a capacitiy of 500,000 tons p.a.
ISO CERTIFICATION
The SCHMIDT Group was one of the first bulk specialist forwarding companies to attain ISO 9002 accreditation through BVQI.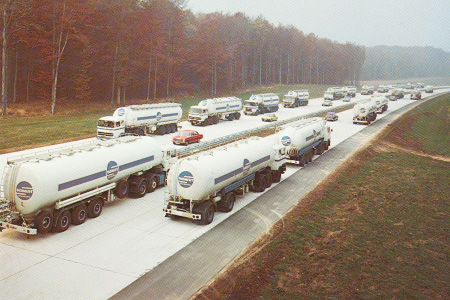 SCHMIDT FLEET.
The SCHMIDT fleet increased to 500 road tankers.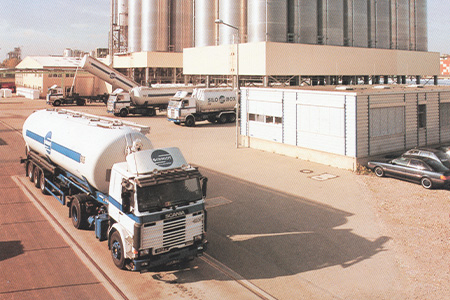 FIRST LARGE OUTSOURCING PROJECT
Completion of the first large outsourcing project in Huerth-Knapsack. The project realized the construction of a silo storage plant including on-site bagging and palletizing facilities.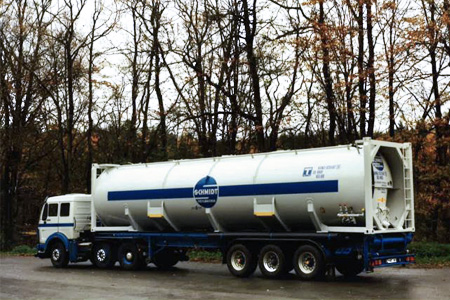 SILO CONTAINER
Introduction of 40' silo containers.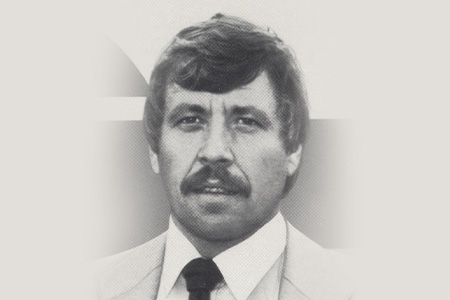 HORST SCHMIDT TAKES OVER MANAGEMENT
After the death of his father, Mr. Horst Schmidt took over the company management.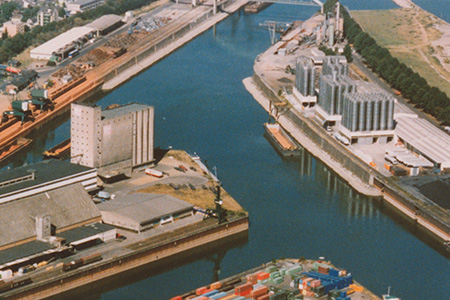 SILOSTORAGE FACILITY IN KÖLN-NIEHL
Establishment of the first silo storage facility in Cologne-Niehl.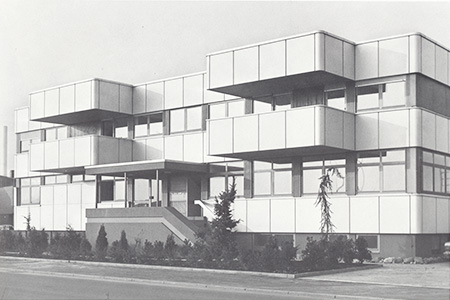 NEW BUILDING IN HEILBRONN
Construction of a new Administration building for the headquarters at Roetelstrasse, Heilbronn, complete with repair, maintenance and cleaning facilities.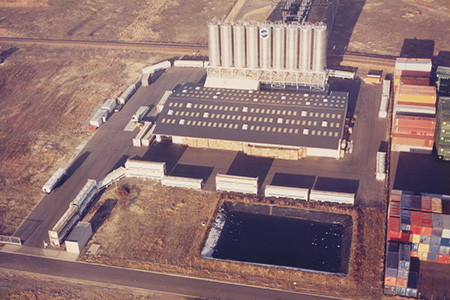 FIRST FOREIGN SUBSIDIARY
Set-up of the first subsidiary outside of Germany in Wommelgem near Antwerp, Belgium.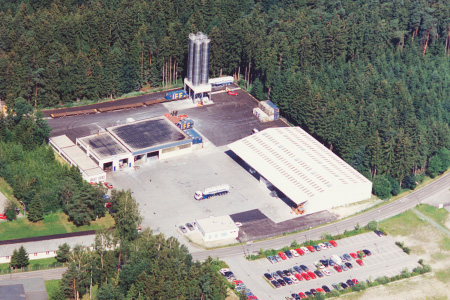 FIRST GERMAN SUBSIDIARY
Set-up of the first national subsidiary in Langweid-Foret near Augsburg in Southern Germany.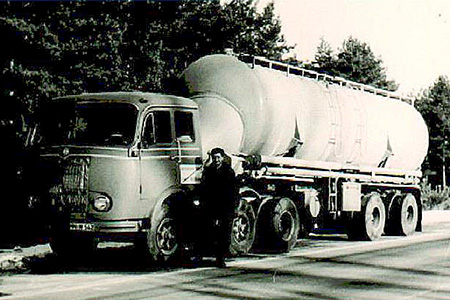 FIRST BULK TRANSPORTATION VEHICLES
Development of the first bulk transportation vehicles.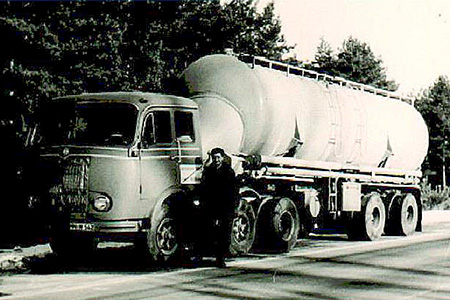 TRANSPORT EXPERIMENTS
Realization of experiments by the owner to transport Soda in bulk tank vehicles instead of jute sacks.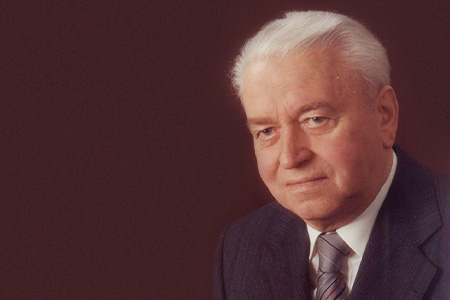 FOUNDATION
Foundation of KARL SCHMIDT SPEDITION in Heilbronn by Karl Schmidt. Commencement of transports with a wood carburator truck utilizing a tilt trailer both of the former German army.